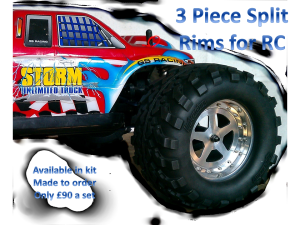 This is the very latest must have for your 1/8 scale monster truck. Three piece split rims. Yes, you read it right. Three piece split rims, instead of those imitation RC alloy wheels. They come in kit form, complete with everything you need to assemble.
They can be assembled to give two offsets. Made the same way as full size racing wheels and made from the same high grade motor sport materials. Extremely light weight for an RC alloy wheel. Std 14mm Hex. Tyres not included.
We are currently working on different centres. We are also working on a 1/10 scale. Soon all RC alloy wheels will have what ever they want.